The 2016 Color of the Year  is what some would call a colorless color: white or, more specifically, shades of off-white. Benjamin Moore and Glidden have made off-white hues their "Color of the Year" for 2016.  Here are the four major paint brands' color picks.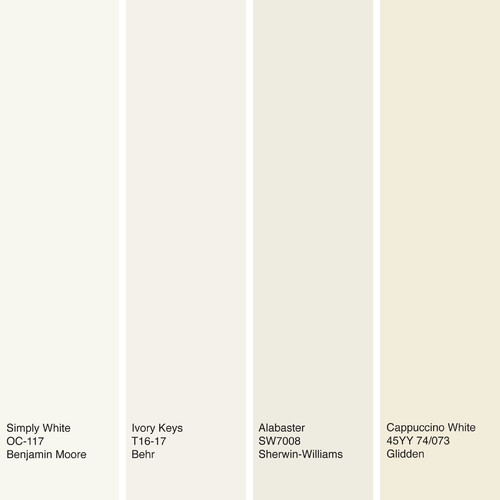 White is a perfect choice for a classically designed space.  Ornament and wall panels are classic in white.
The white ornament embellished ceiling and walls are all you need in this beautiful room.
Beaux-Arts
Victorian
decorative trim for recessed lighting is perfect in our white finish for the most common ceiling color, flat white.  White integrates wonderfully with the new white LED retrofits.
Lovers of  classically designed spaces add ornamentation in white to your white walls.  Transforming a 'wall' by adding ornament can be more thrilling than the transformation with paint.   We have been working on the entrance to our dining room.  We ordered these amazing fish scale pilasters from Decorators Supply in plaster.
I am not ready to show them installed as we are putting the finishing touches on the entrance header. For the header we chose this handsome pair of griffins also from Decorators Supply and Louis XVI Urn with Flames.
Louis XVI Urn With Flames, 6″H x 11-3/4″W x 1/2″ Relief.  The urn has more relief than the griffins but I don't mind that.
The griffins are shown in the finish I have chosen for my entrance foyer,  Benjamin Moore Cream Froth with my favorite aging glaze using Cal Tint Raw Umber which looks great with my tile.  I have also used it on my fireplace.
Pantone's Color Of the Year does not come out until December.  In the meantime,  Sherwin-Williams and Behr which include white in their 2016 color trend forecasts, also offer a sophisticated palette from dramatic and bold to monochromatic.  Their colorists take into consideration life styles such as the evolution of industrial design, the increasing time spent with technology and creating spaces that are soothing places to recharge and unplug.
"Our 2016 Trends address the importance of color in constructing stimulating environments resulting in interiors with impact, high contrast and dimensionality.
 So here are some fabulous examples of walls which stand out because of their color/colors.
Gold or Silver Leaf Walls
Not much wall surface in this bathroom and they chose the perfect finish.
Painted Gold Leaf
Gold metallic paint highlight on Lincrusta wallcovering
Black – Dramatic and elegant
A beautiful Gray Faux Finish is a perfect backdrop for the accessories and furnishings.
Neutral Griege
Hand painted Lusterstone
Love this color
I love Milieu Magazine.  The first thing I love are the ads! Great sources.  Such as Origines, Samuel Roger Purveyor of splendid Fireplaces, Art Pieces, Sculptures and Architectural Elements.
Roger's Statement
"It gives new life to witnesses of the past.
It seeks out and finds rarity, dreams.
It conserves and restores history and past eras.
It preserves and uses as models that unique heritage,
those works of art, those old objects, those noble materials.
The old travels across time and the world.
A new life, a new place, to host the passion for those stone
or wooden chimneys, those floors of a thousand charms,
those garden ornaments, those decorative objects,
those remakes or those old models."
Magnificent Louis XIV Stone Sphinxes
Louis XVI Marble Fireplace
Pamela Pierce is the Founder and Editor in Chief of Milieu.  The Fall Issue 2015 is their Third Anniversary Issue which features four incredible women considered the best of the best in the world of magazine editors.  Her editorial focuses on  curiosity as a motivator of creativity which is at the core of Milieu, to share great information, enlightenment and ideas.
It is a pleasure to share some of my favorites filled with inspiration.
Fall 2015 Best Dressed Walls
Venetian Repose, Interior Design by Elizabeth Royer, Rose Marmorino Walls
"It was decorated in a very classical fashion with original ceilings and antiques".  Elizabeth Royer
Spring 2015 Best Dressed Walls
Istanbul Residence, Interior Design by Asli Tunca and Carl Vercauteren
Hand Painted Fresco Bed Alcove
Tunca successfully combines Baroque and Ottoman Orientalism.
Hand painted walls of stucco.  Stunning mix of antiques and contemporary designs.
Summer 2015 Best Dressed Plaster Walls
California Residence, Interior Design by Tim Clarke
Love the integration of decorative grilles in the walls.  Great attention to details.