Crowns-Queens-Symbols – Royal Products
A crown traditionally represents power, triumph, honor, and glory.  Symbols inspire us and what better inspiration for fashion and interior design than  crowns and queens.  A crown also symbolizes in the broadest and deepest sense a superlatively successful 'crowning achievement'.  They are works of great beauty  and a visible sign of success, whose significance reaches beyond the act to the person who performed it.  Reaching the highest goal in evolution for he who conquers himself and wears the crown of eternal life.    Crowns are a popular tattoo as a reminder of your highest vision.
Alexis Mabille Haute Couture 2017
Dolce Gabbana 2017
2018 Birthday Celebration for Juan Carlo Giammetti
Crown Headpiece Ralph Russo Haute Couture – Bridal
Christian Dior 2017
Cartier Tiara 2017
Audrey Hepburn
Queen Victoria
The set design for Victoria was created by Michael Howells.  See the complete article at Architectural Digest Victoria Set Designs
According to Mr. Howells "It was literally building a palace from scratch," he says. "I wanted it to feel very cinematic. These weren't small sets." Howells and his team re-created the interiors of Buckingham Palace, focusing on an ornate corridor as the main artery of the set. Gilded mirrors and objects were handcrafted out of found objects. "I wanted them to look like the work of Grinling Gibbons, who was this amazing wood carver," says Howells. "We made all the frames out of seashells and walnuts and beech leaves, so they looked like exquisite carvings."
According to Howells,  "There's not much early reference to what the interiors of Kensington Palace and Buckingham Palace were like," he says. "We had to go on the style. We decided to pitch it more Georgian and Regency so that it's still minimal and quite formal."
Several historic homes were used as locations, but much of the Buckingham Palace set was built by Howells, his team, and an army of craftsmen and students from Leeds College of Art. "All the furniture we hand-gilded, and I think we had 10,500 square feet of gold leaf in the sets," he says. That's in addition to the 4.5 tons of crystal used in the chandeliers and 12,000 handmade candles that were burned throughout filming.
The team crafted reproduction Chippendale and Hepplewhite furniture both for the palace and to replace the existing antiques on location. "They're modern copies because the actors need to be able to sit on them," he says. "Some of the furniture is so rare, we just couldn't use it." While creating the interiors of an 18th-century palace from nothing presented a major challenge, the hands-on nature of the production had its benefits. "It was a joy having all these artisans and assistants and trainees," says Howells. "It felt very archaic in a creative way."
For the Throne Room and adjacent ballroom, Howells had crystal chandeliers weighing a total of 4.5 tons sent from the Czech Republic. He based the inlaid wood floors on references from the period.
Teal and a range of blue-greens became the signature color for the queen's apartments. "It's really very much opposite to skin tone in the color spectrum," says Howells. "She looked beautiful against it." The black lacquer furnishings were upholstered in the same silk jacquard that was used for the sweeping curtains.
Howells used the queen's bedroom to show her transformation. "When she first comes to the palace, it's not her style," he says. "She's just moved in as a young girl. The bed starts off gray and goes to yellow, and in the next season it changes as well. " Verre églomisé panels line the walls and create a dazzling effect when lit by candlelight.  The wall panels for the Queen's bedroom are   the inspiration for Beaux-Arts Classic Products Victoria Wall Panel Set.  Shown here with silver leaf panels.
Queen Elizabeth
Article in Architectural Digest on the Set Design for The Crown
Production designer Martin Childs –  "Designing period interiors requires not only historical accuracy but a distinct color palette. Child explains, "The story of The Crown begins in 1947 in a Britain emerging from a world war—brown, grey, austere, and bankrupt. 'Everything was being raised from the ashes,' Princess Margaret was to say. The colour of ash became our starting point. Not just a peeling, damp Downing Street, even Buckingham Palace betrayed austerity and trauma."
The lavish big budget production was shot over eight months on 398 sets, which explains why the series is so popular with design fans. For this reason, it's somewhat surprising to hear production designer Martin Childs describe his mind-set as one based on restraint.
Wilton House Double Cube Room –  is a trump card kept up our sleeves for the most special occasions at Buckingham Palace. It's the richest in its ability to fill the screen with wealth, culture, and history while at the same time serving as a canvas for a portrait or a moment. There is a scene in Season One, for example, when Elizabeth [Claire Foy] is preparing for a meeting, and Philip suddenly realizes he is not wanted. He's Diane Keaton in The Godfather. The room's character—its centuries of exclusive antiquity—adds to our perception of his sense of exclusion.
Lancaster House – The Long Gallery
Lancaster House – "This is one of the more intimate rooms at Lancaster House, one that's sufficiently devoid of personality to make it a hugely useful versatile space. It has been a drawing room, a meeting room, a study [here, it plays host to Tommy Lascelles (Pip Torrens) and the Queen Mother (Victoria Hamilton)]. Its versatility is such that it never matters whether it is or isn't recognized from episode to episode. As a designer you welcome the chance to use a room that doesn't shout but that says to the audience, without any need of a caption, "Buckingham Palace.""
Queen's Bedroom Sofia Coppola Marie Antoinette
Queen's Bedroom Chambord
Queen Adelaide Bedroom in Belton House
Versailles Queen's Bedroom show the Secret Passage
Products for that royal touch.
Posh Regal Crown Monograms by Jack and Jill Interiors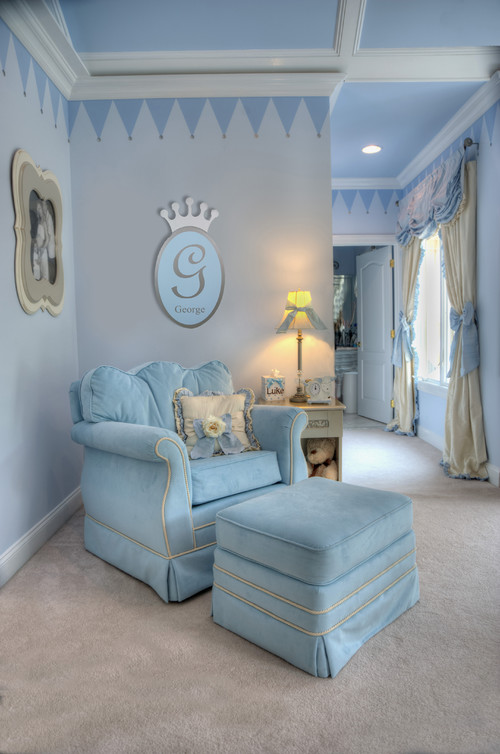 Bed Crowns – Touch of Class  – $149
Alexandrine Bed Crown – $259
Throne Armchair Toscano Egyptian $1,539
Lord Raffles Throne Arm Chair –  $1,999
Regents Park Victorian Garden Chair
Trone de la  Reine Queen Throne Chair
Children's Lion Throne Chair – Now this is a great Time Out Chair!  Time to think great thoughts.
Children's Baroque Crown Chair
MacKenzie-Childs – Queen Bee Loveseat
Victoria Wall Panel Set – $199
The Set includes 4 S Curves.  The width of the panel is arbitrary based on the position of the S Curves.
Two Shell Centers and 12′ of moulding.
About Author
Comments are closed